Na een maand naast de kudde in de loopstal gestaan te hebben mag ons veulen er nu bij. Een belangrijk moment, hij zal nu ook andere paarden leren kennen, elk met hun eigen grenzen en karakter.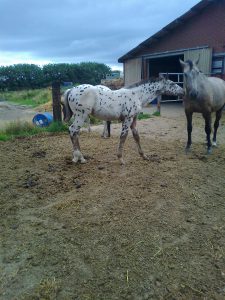 Het introduceren van Lady en Patchouli in de kudde hebben we niet van de ene dag op de andere gedaan. We hebben dit stapsgewijs opgebouwd en hoe we dat gedaan hebben kan je hier lezen.
Zoals je in de vorige blog al kon lezen heeft Cowboy al af en toe bij Patchouli en Lady gestaan. Maar dat was niet alles.
De kudde van de loopstal heeft 4 weides waartussen afgewisseld kan worden en een paddock met inloopstal. Er is dus altijd maar 1 weide bezet door de kudde. Gedurende een week hebben we Patchouli en Lady overdag op 1 van de andere weides, de paddock en de inloopstal laten lopen. Op die manier leerde hij de nieuwe omgeving kennen en eventuele vluchtwegen voor later ontdekken.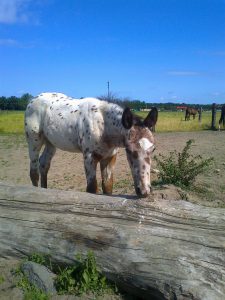 'S nachts stonden hij en Lady nog op hun weitje apart. Dit bracht ook als voordeel mee dat Patchouli 2 maal per dag van en naar zijn weitje moest gebracht worden. Een goede gelegenheid om hem aan het halster nemen en te laten volgen met mijn moeder en Lady voorop, zodat hij mooi zijn moeder en dus onbewust ook mij achterna liep zonder dat er dwang aan te pas kwam.
Na het een week zo gedaan te hebben mochten Lady en Patch dan bij de kudde. Een kleine kanttekening; Lady was de alfa-merrie van de kudde, ik had dus helemaal geen schrik dat zij of Patchouli opgejaagd zouden worden door de anderen. En daarnaast had Lady ook al getoond dat ze haar kleintje heel goed beschermde. Er was voor de andere paarden ook niets nieuws meer aan hem, ze hadden hem al een maand lang elke dag gezien.
Het bijzetten gaf dan ook echt niets van problemen. De andere paarden begrepen heel duidelijk dat Lady vond dat er niet te geïnteresseerd naar haar veulen moest gekeken worden en er was tenslotte ook niet veel nieuws aan. Patchouli zelf vond het allemaal super, heel veel plaats om te lopen en andere paarden om reacties bij uit te lokken. Na een paar dagen overdag bij de groep te staan mocht Patchouli al snel dag en nacht bij de kudde blijven.
Maar waarom wou ik per sé zo snel zo'n kwetsbaar wezentje in een kudde zetten?
Het opgroeien in een kudde is namelijk zeer belangrijk voor de opvoeding van een veulen. Een combinatie van paarden van verschillende leeftijden is ideaal, ze stellen allemaal grenzen wat er kan en niet kan. En alles op een zachte en toch duidelijke manier. Het is ongelooflijk mooi om te zien hoe voorzichtig de andere paarden met een jong veulen omgaan.
Is Patchouli te wild of te onvoorzichtig, dan krijgt hij een zachte beet of een duw van een achterbeen of een neus, net hard genoeg om duidelijk te maken dat dat niet kan en nooit te hard. Ze duwen hem gewoon kort en duidelijk uit hun ruimte weg of ze negeren hem heel duidelijk. Het is daarom dat ik hem zo snel mogelijk in de groep wou hebben. De kudde voedt ze samen op, er zijn regels en grenzen, er zijn "zuurpruimen" in de groep en jonge speelvogels. Op die manier leert een veulen met allemaal verschillende karakters omgaan. Ze leren de signalen van de andere paarden te lezen en op tijd te herkennen. Sommige paarden kunnen uitgedaagd worden voor een spelletje, bij andere paarden kan Patchouli een rustige groomingsessie krijgen. Het is die variëteit in de groep die een veulen helpt opgroeien, er is van alles wat en hij leert naar de juiste paarden te gaan op het juiste moment. En de oudere paarden leren voorzichtig en tolerant te zijn.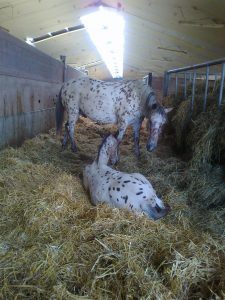 Veulens die in dergelijke groepen opgroeien zijn van nature uit veel voorzichtiger en respectvoller naar de mens. Ze zijn dapperder en onafhankelijker, ze gaan sneller verder weg van hun moeder. Het zijn veulens die veel geruster zijn, meer vertrouwen hebben in hun omgeving. En hun paardenmanieren zijn onmiddellijk ook bevestigd 😉
Veulens in kudde laten opgroeien is dus iets wat ons en het veulen alleen maar ten goede kan komen!