Over Nina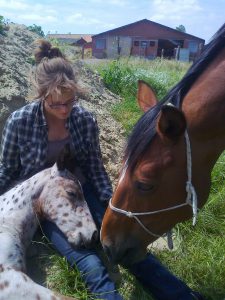 Van jongs af aan ben ik altijd gepassioneerd geweest door dieren, paarden in het bijzonder. Al snel begon ik les te volgend op een manege. En even snel ondervond ik dat de klassieke manier van de maneges niet mijn ding was. Er was helemaal geen aandacht voor connectie met het rijpaard, iets wat ik enorm miste. Op dat moment kreeg ik de kans om bij een vriendin thuis te gaan rijden, waar ik ook mijn paard Cowboy leerde kennen. Vanaf de eerste minuut had ik een heel goede connectie met hem. Op een gegeven moment kreeg Cowboy de diagnose hoefkatrol opgeplakt. Mijn wereld stortte in. Ik ben me onmiddellijk gaan verdiepen in rechtrichten, een manier van trainen die dit zou kunnen verhelpen. Het was meer dan het proberen waard want medicatie en speciale ijzers waren voor mij de allerlaatste optie.  Via een aantal omzwervingen kwam ik dan op Horseman's Paradise terecht, waar ik ook mijn liefde voor de academische rijkunst ontwikkelde. Ik ontdekte er het Balanced Horsemanship (Natural Horsemanship en Academische rijkunst). En meteen wist ik dat dat hetgene was waar ik naar op zoek was. Een gelukkig paard in een soepel en sterk lichaam, het is in mijn ogen onlosmakelijk met elkaar verbonden. Een tweetal jaar geleden bleek de diagnose hoefkatrol bij Cowboy gelukkig verkeerd, maar de liefde voor het rechtrichten en de klassieke dressuur was ontstaan. Alsook heb ik nu een paard dat veel beter in zijn vel zit en nog jaarlijks verbetert volgens de chiropractor, ondanks zijn leeftijd. Wat kan een mens meer willen?

In tussentijd volgde ik reeds de opleiding tot Professionele bachelor in de dierenzorg. Ik deed stage op Horseman' s Paradise. Ben bij hen blijven plakken en volgde er de jaaropleiding en aansluitend de instructeursopleiding. Van kindsbeen af heb ik altijd gezegd dat ik paardentrainer wou worden, de instructeursopleiding was dus een logische keuze. En nu, zoveel jaar later, is hier Paardwijzer, een "vree wijs" Gents bedrijfje waarbij plezier, bijleren en duurzaam omgaan met je paard centraal staan!
Ondertussen blijf ik me continu verder bijscholen.
Zo ben ik ook in training bij Françoise Van Audenaerde in de klassieke dressuur met focus op houding en zit. In maart 2017 ging ik reeds een week op intensieve stage bij haar om me hier verder in te verdiepen.

Om de connectie met Cowboy te onderhouden volgde ik reeds een clinic van Noorah Ehnqvist. En nu doe ik regelmatig sessies met Klaartje Van Steen, The Horse Communicator

In april en mei 2018 liep ik 5 weken stage bij Ton Duivenvoorden om me verder bij te scholen in de Akademische rijkunst.
De paardenfamilie is ondertussen ook al uitgebreid met twee leden: Lady, met wie ik de meeste lessen geef, en Patchouli, haar veulen van 2015, die binnenkort ook al in de les voor grondwerk kan meedoen. Ze hebben alle 3 een enorm verschillend karakter en hebben mij al zo ontzettend veel geleerd en geholpen. Al betekende dat soms ook een broek of jas vol modder maar evengoed veel gelukzalige, fantastische momenten! Ik kan ze niet meer missen.
"If you always do what you've always done, you'll always get what you've always got"
-Pat Parelli-