De piste is een zwembad. Alles ligt spekglad. De weide is een modderpoel. Mijn paard heeft verplichte boxrust. Ik heb dus al weken niet kunnen oefenen.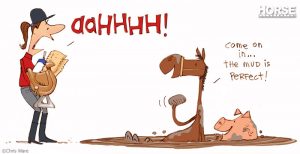 De gekende perikelen van een paardeneigenaar zonder binnenpiste in de winter. Maak jij je ook wel eens schuldig aan deze excuses? Wablief? Excuses? Ja! Excuses. Want ook met een natte piste kan je nog steeds oefenen. Je hebt niet meer dan een paar vierkante meter nodig om een heel arsenaal aan oefeningen te kunnen doen. En dat hebben we allemaal wel ergens toch? Gebruik de schuilstal, de poetsplaats, de hooischuur, … Mogelijkheden zat!
Maar je zal wel je focus moeten verleggen. Draf en galoptraining zal natuurlijk niet lukken op zo'n kleine oppervlakte. Maar geen nood! Er zijn nog een heleboel andere belangrijke basiszaken die je kan verbeteren. Zaken waar je misschien minder zin in hebt als je piste wel perfect ligt voor een springparcours 😉 Dus, laat je modderpoel geen excuus zijn maar een goede aanzet voor je over deze basisoefeningen te buigen. Nu, welke oefeningen zijn dit dan? Aha! Laten we eerlijk zijn, het zijn er véél. Je kan je paard goed voetjes leren geven, druk op het halster volgen, wijken van de voor- of achterhand, … Maar er zijn ook een aantal interessante oefeningen die je later zullen helpen bij het rechtrichten in beweging. Hiervan zet ik er even een paar op een rijtje voor jou.
Stelling nemen in de kaptoom. Vooraleer je kan gaan rechtrichten aan de hand is het belangrijk dat je paard jouw hand vlot leert volgen. Oefen om je paard zijn hoofd te plaatsen waar jij het wilt. Neem stelling naar links en naar rechts. Kijk waar jouw paard het moeilijkste naar buigt en oefen hierop, maar vergeet ook de goede kant niet. Met de tijd zou je het gevoel moeten krijgen dat je met een mes door boter gaat bij het verplaatsen van het hoofd. Je voelt een lichte traagheid maar je paard volgt vlot en gelijkmatig en kan de stelling even aanhouden.
Buiging checken. Neemt je paard ook buiging aan als je stelling vraagt met de kaptoom of heb je enkel invloed op het hoofd? Dit kan je checken door zachtjes in de kaptoom te duwen in de richting van de wervelkolom wanneer je paard vierkant staat of met het binnenachterbeen iets naar voor. Shift je paard zijn gewicht naar het binnenachterbeen? Dan is het goed. Is dit niet het geval, dan is er wat mis. Met een zweepje kan je jouw paard helpen om zijn voeten te verzetten zodat het iets makkelijker gaat of om wat buiging te nemen.
Wiegen in de schouders. Lukt de vorige oefening niet goed? Dan kan het zijn dat jouw paard te veel op een schouder leunt. Leer hem de suggestie van de teugel en jouw zweep volgen om zijn schouders te verplaatsen. Een stapje naar binnen en een stapje naar buiten. Tot dit zo goed gaat dat je het gewicht kan verplaatsen van de binnenschouder naar de buitenschouder en omgekeerd zonder hij een voet verzet. Deze oefening zal je helpen indien buiging in de vorige oefening niet goed ging. Ook bij het werken aan de hand en het longeren zal je merken dat deze oefening goed van pas komt. Bij het rijden zal je paard nu ook beter de begrenzende werking van de buitenteugel snappen.
De travershulp aanleren. Voor deze oefening is het handig als je een muur hebt om je paard naast te stellen. Op die manier kan hij al niet in de verkeerde richting stappen. De travershulp is iets wat je eerst moet aanleren aan je paard vooraleer je dit in stap kan gaan doen. Leer hem dat wijzen met je zweep over de rug naar het buitenachterbeen wil zeggen dat hij zijn kont naar jou toe moet verzetten. Doe dit door met de zweep te wijzen, bij geen reactie ga je zachtjes ritmisch tikken op zijn bil en bouw je op tot je de juiste reactie hebt. Haal onmiddellijk de druk weg en beloon. Herhaal dit tot je paard bij het wijzen van de zweep meteen zijn achterhand verzet.
Gewicht shiften van voor- naar achterhand vooraan aan de kaptoom. Als je al de vorige oefeningen onder de knie hebt kan je beginnen met deze. De bedoeling is dat je jouw paard kan laten 'schommelen' zonder zijn voeten te verzetten.  Met de travershulp en het zachtjes duwen in de kaptoom zou hij naar achter moeten shiften, door zelf achteruit te leunen en met je zweep richting binnenachterbeen te wijzen zou hij terug naar voor moeten shiften. Je maakt zo een travers- en schouderbinnenwaartse swing. Hoe soepeler en sterker je paard wordt, hoe verder hij naar achter kan swingen tot je de schoolhalt bekomt, waarbij de twee achterbenen gaan buigen en het gewicht van de voorhand grotendeels overnemen. Je zal zien dat het binnenvoorbeen dan vanzelf omhoog komt. Let wel op, dergelijke dingen hebben tijd en training nodig. Enkel deze oefening is voor de schoolhalt te bekomen niet voldoende.
Gewicht shiften aan de longe naast je paard. De vorige oefening kan je ook leren vanop afstand voor hetzelfde te bekomen aan de longe. Wrijf met je zweep over de staartaanzet van je paard en zwaai kleine lusjes naar achteren in het touw aan de kaptoom tot hij zijn gewicht naar achter brengt. Probeer te stoppen vooraleer je paard naar achteren stapt, je hebt enkel de gewichtshift nodig. Zodra hij in de juiste richting denkt laat je weer los en beloon je. Dit doe je tot jouw paard, bij het wrijven over de staartaanzet, de reactie heeft om meteen wat te gaan 'zitten' op de achterhand en zijn gewicht naar daar te verleggen.
Nu heb je een beknopt overzicht van oefeningen die je kan doen als je weer excuses voelt opborrelen over het slechte weer 😉 Ik beloof dat je hiermee al eventjes zoet zal zijn vooraleer alles perfect lukt! Hou je me op de hoogte van jullie vooruitgang? Veel succes!