'Kan jij mijn paard even vasthouden zodat ik kan opstijgen? Anders raak ik er niet op want hij stapt altijd weg. Wil jij mijn paard even tegenhouden als ik opstijg? Hij begint altijd wild te doen als ik het alleen doe maar eens ik er op zit krijg ik hem wel terug kalm.'
Het zou me verwonderen als je als ruiter deze vraag nog niet gekregen zou hebben van een andere ruiter. Of misschien maak je jezelf soms schuldig aan deze kleine hulpvraag?
Tijd om daar verandering in te brengen! Want het lijkt iets klein en onschuldig maar verbergt eigenlijk zoveel meer. Eerst en vooral zouden we ons moeten afvragen waarom het paard niet wilt blijven staan bij het opstijgen. Heeft hij het zo geleerd? Heeft het paard stress? Zo ja, van waar komt die stress?
Niet stilstaan bij het opstijgen kan veel oorzaken hebben. Opstijgen is een ingrijpende handeling. We staan naast ons paard op de grond, hangen ons gewicht aan de zijkant en hijsen onszelf op tot vanboven op hun rug waar ze ons niet meer kunnen zien. Onderweg draait de tip van onze schoen vaak nog in hun flank en botst onze knie of schoen op hun kont. Niet bepaald een geruststellende handeling voor een prooi- en vluchtdier dus. Opstijgen is dus eng voor een paard, laat dat duidelijk zijn. Maar je kan ze er gelukkig wel op voorbereiden. Bij het zadelmak maken van een jong paard zal dit een van de eerste dingen zijn die ik doe. Ik leer ze wijken voor druk, een suggestie volgen, wennen aan een zadel en beweging op de rug. Maar dat alleen is niet voldoende. Ik ga ook werken van de omheining in de piste of een ander verhoog.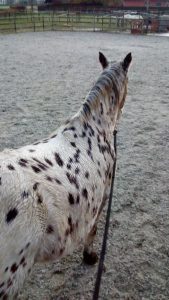 Op deze manier leert het paard wennen aan jou als je hoger zit. Begin daar waar je paard aangeeft het eng te vinden en bouw van daar verder. Vraag hem om dichterbij te komen en weer weg te gaan. Vraag hem om zijn lichaam naar je toe te draaien en stil te staan en leer ze zo gaandeweg 'parkeren'. Pas als je paard in alle rust en kalmte kan parkeren aan het hek is het tijd om verder te gaan. Beweeg over hem heen, zet druk op het zadel, strijk met de carrotstick over hun rug, enz… Met andere woorden: zorg dat je paard goed voorbereid is op de volledige handeling van het opstijgen. Neem er de tijd voor. Oefen dit als oefening op zich, ook al is je paard al zadelmak. Het is zo handig als je hen leert parkeren. Je zal zien dat het jou later veel tijd en je paard veel stress zal besparen.
"Take the time it takes so it takes less time"– Pat Parelli wist het al…
Heb je jouw paard goed voorbereid en stapt ie toch nog steeds weg? Dan is er meer aan de hand. Het kan zijn dat je te wild opstapt, doe het dan gewoon voorzichtiger en stap sowieso liefst op vanaf een verhoogje. Ideaal is eentje dat al minstens tot aan de stijgbeugels komt.  Zo vermijd je nodeloos veel druk op de rug van het dier. Hier kan je een filmpje zien die de impact van opstijgen vanaf de grond of een te laag opstapje goed weer geeft.
Maar er kunnen ook andere redenen zijn dat je paard niet stil wilt blijven staan. Bij het opstappen zet je druk op het zadel en dus op de rug van je trouwe vriend. Als hij ergens last heeft, zoals een blokkade in de rug, kan deze extra druk voor pijn zorgen. Logisch dus dat je paard dit probeert te vermijden. Laat daarom regelmatig een osteopaat of chiropractor  je paard checken en voel zelf geregeld of er nergens pijnlijke plekken zijn. Laat zeker ook jouw zadel nakijken door een goede zadelpasser of het wel (nog steeds) past. Een slecht passend zadel kan pijnlijk zijn en de oorzaak van een blokkade. Maar kijk verder dan enkel de rug. Ook de hals, hoeven, tanden, etc hebben regelmatige controle nodig en kunnen bij pijn een reden zijn om weg te stappen van jou. Negeer deze kleine signalen dus niet, ze hebben een reden.
Nu heb je een idee van de voornaamste oorzaken voor het niet stilstaan bij het opstappen. Blijf niet bij de pakken zitten en doe er wat aan!
Veel succes!