Ontspannen buitenrijden, kan je daarop oefenen?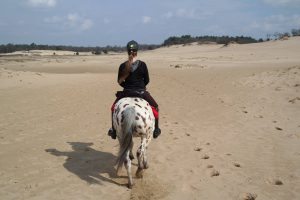 Het goede weer is in het land en de dagen worden langer. Voor veel ruiters begint het te kriebelen om nu te gaan wandelen. Ze dromen van lange strandritten, ontspannen handgalopjes in het bos, rustig een kruispunt oversteken, …
Maar voor veel ruiters blijft het bij dromen. Hun paard kan schrikken, hij is bang van tractors, hij neemt zijn bit vast en galoppeert naar huis, hij bokt als hij zadeltassen op heeft, … Ze krijgen al stress als ze nog maar denken aan een buitenrit en schuiven hun dromen dus aan de kant. "Misschien later met een ander paard." "Met mijn paard kan dat niet hoor, jij hebt gewoon een braaf paard." "Hij is bang van tractors."
Het lijkt alsof sommige paarden 'gewoon gemakkelijk' zijn om mee buiten te rijden. En helemaal niet alsof het iets is waarop je kan trainen en je voorbereiden. Nochtans is dit niet het geval. Elk paard heeft natuurlijk zijn eigen karakter en met het ene paard zal gaan wandelen veel vanzelfsprekender zijn dan met het andere. Het ene paard is van nature onzekerder en schrikachtiger dan het andere. Maar dit wil niet zeggen dat je hem (en jezelf!) niet kan voorbereiden om een ontspannen buitenrit te kunnen maken.
Nu, hoe doe je dat dan?
Wel, hieronder vind je tien tips terug die je zeker zullen helpen als buitenrijden niet zo vanzelfsprekend is.
Bereid je rit voor! Verken de wandeling en weet waar er gevaarlijke punten zijn en pas je route hieraan aan, aan het kunnen van jou en je paard. Zodat je niet plots voor moeilijke situaties komt te staan die je had kunnen vermijden.
Check je harnachement en neem reserve items mee zoals teugels. Je wil niet onderweg in een paniek situatie plots je teugel kapot trekken en met één teugel naar huis moeten.
Bereid je paard goed voor op de grond. Als hij het dan lastig krijgt onderweg kan je afstappen om hem op de grond verder te helpen. En nee, afstappen is geen schande, als jouw paard meer vertrouwen in jou heeft op de grond dan is dat de beste plek voor jou om hem door stresssituaties heen te helpen. Maar stap ook niet voor het minste af, werk er wel aan om minder te moeten afstappen.
Zorg dat je altijd een leidtouw bijhebt, of touwteugels die je kan gebruiken als leidtouw voor als je moet afstappen onderweg. Houd daarom ook je touwhalster dichtbij, of laat het gewoon aan.
Zorg dat je jouw paard in de piste perfect onder controle kan houden. Zorg dat je zijn gangen perfect kan beïnvloeden met jouw zit. Je zou in staat moeten zijn om jouw paard heel erg traag en heel erg snel te laten stappen, draven, galopperen, op de zit.
Oefen de one rein stop in de piste tot vervelens toe. Deze stop zal enorm behulpzaam zijn in stresssituaties. Maar zorg dat je hem correct uitvoert! Hier is een duidelijk filmpje over het hoe, wat & waarom van de one rein stop. Ook de short serpentine is een oefening die zeker nuttig is om te beheersen om een nerveus paard onder controle te houden. Door terug buiging in het lijf te krijgen kalmeert het paard. Maar let ook hier weer op, voer deze oefening correct uit!
Wees zeker dat je paard helemaal oké is met alles wat er op zijn rug ligt. Ook met flapperende dingen. Niets gevaarlijker dan een paard dat panikeert omdat jouw vastgeknoopte trui los komt tijdens een galop…
Oefen mogelijke stresssituaties eerst aan de hand. Veel paarden vinden snel rijdende auto's, bussen, tractors etc in het begin heel eng. Maar eens ze deze een aantal keer rustig hebben kunnen bekijken is het vaak geen probleem meer. Ook paraplu's, buggys, … lijken soms monsters voor je paard. Ga daarom eerst regelmatig met je paard aan de hand wandelen.
Ga, zeker in het begin, mee met ervaren ruiters en paarden. Je paard zal hier steun aan hebben als hij ziet dat de andere paarden rustig zijn. En jij ook ;). Maar maak zeker duidelijke afspraken onderling! Wacht op elkaar en begin niet plots te draven of galopperen, paarden zijn kuddedieren en willen mee met de rest.
Het klinkt stom, maar: blijf zelf rustig! Het klinkt vanzelfsprekend maar vaak spannen we ons op zonder dat we het door hebben. Onze paarden hebben dit echter onmiddellijk door. Ga regelmatig voor jezelf na of je wel tot in je buik ademhaalt en of je jouw schouders niet opgetrokken houdt. Dit zijn de eerste tekenen van verborgen spanning. Laat je buik los en ontspan je schouders. Neuriën kan helpen om te ontspannen en je ademhaling onder controle te houden.
Maar vooral: geniet er van! Er zijn weinig dingen zo heerlijk als in volle galop de kustlijn af te gaan. Of 's middags in het bos je door elkaar geschudde lunch uit je zadeltas te halen om hem te delen met je paard.