Je hoort vaak dat paarden op een leeftijd van zestien aan hun pensioen toe zijn. Ze beginnen in de sport als ze slechts vier jaar oud zijn, om vervolgens elk jaar een niveau hoger te lopen. Hoeveel paarden zijn er tegenwoordig niet die op jonge leeftijd al artrose hebben? Andere 'populaire' aandoeningen zijn hoefkatrolontsteking en kissing spine. Over deze aandoeningen zal ik nu niet verder uitweiden, maar concreet wilt het zeggen dat jouw paard weldra kan afschrijven. Nochtans bereiken veel paarden, mits de juiste zorg, gemakkelijk 30 jaar. Hoe komt het dan dat sportpaarden al op zestienjarige leeftijd op pensioen moeten? Is er dan misschien iets mis met onze manier van trainen? En kunnen we hier iets aan doen? Ja! Namelijk:
'Rechtrichten'
Tegenwoordig hoor je deze term overal in de paardenwereld, het lijkt wel hip. Nochtans is dit niets nieuws. Al eeuwenlang worden paarden zo getraind dat ze 'recht' lopen. Wil dat dan zeggen dat paarden anders scheef zijn? Ja! Elk paard is van nature scheef, net zoals wijzelf. Is dat een probleem? Nee! Tenminste, zolang we geen uren op hun rug spenderen terwijl ze fysieke prestaties leveren.  Een scheef paard loopt scheef, gebruikt zijn spieren en pezen niet gelijkmatig en belast zijn gewrichten ongelijk. Dit leidt tot slijtage, wat zorgt voor verval. Of in andere woorden: artrose, hoefkatrol, kissing spine,… Gelukkig kunnen we onze paarden zó trainen dat ze hun spieren, pezen en gewrichten wel gelijk belasten. We kunnen ze leren recht te lopen en hun (en ons) gewicht te dragen zonder dat dit problemen met zich meebrengt. Maar het vraagt tijd, training en nog meer tijd.
Een paard heeft altijd één kant die soepeler is dan de andere. Als ruiter merk je dit op doordat een bocht naar links anders voelt dan een bocht naar rechts. Zeker het aanspringen in de juiste galop is vaak een struikelblok. Het paard geeft altijd de voorkeur voor ofwel de linker- of de rechtergalop. En maar goed ook, op die manier hoeft het paard niet na te denken in welke galop hij wilt wegrennen van een roofdier. Maar het wordt natuurlijk een andere zaak als er een scheve ruiter op de rug gaat zitten…  Gelukkig kunnen we het paard trainen zodat hij even gemakkelijk naar links als naar rechts kan buigen door zijn hele lichaam. Ik geef de voorkeur aan de academische rijkunst omdat hierbij altijd vanuit ontspanning gewerkt wordt. Er wordt gewerkt met een 'trainingsladder'  die uit een logische opeenvolging van verschillende dressuuroefeningen bestaat.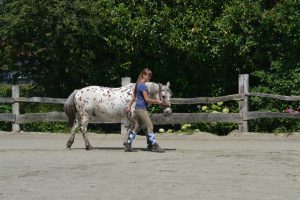 We leren zo het paard om zichzelf beter te gaan dragen, zijn buikspieren te gebruiken en zijn rug omhoog te brengen. Hierdoor wordt het dragen van de ruiter makkelijker. We  leren ook om zijn ene achterbeen verder onder de massa te plaatsen. En vervolgens zijn andere achterbeen. Om dan later beide achterbenen meer te laten ondertreden en buigen.  De achterbenen worden sterker en soepeler en het paard kan gaan 'verzamelen.' Meer gaan zitten op de achterhand, waardoor de schouders automatisch meer bewegingsvrijheid krijgen en het gewicht van de ruiter meer door de achterhand gedragen wordt. Hoe rechter je paard, hoe meer hij ook buiten het werk recht loopt. Je zal zien dat hij meer in twee sporen gaat lopen. Een met zijn linkervoor- en linkerachterbeen, het andere met zijn rechtervoor- en rechterachterbeen.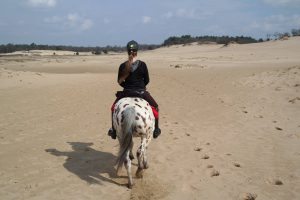 Je paard zijn spieren en gewrichten worden aan beide kanten evenveel belast en slijtage zal minder snel ongelijk plaatsvinden. Paarden die op deze manier getraind worden blijven fysiek langer gezond doordat ze minder snel last krijgen van allerlei ouderdomskwaaltjes. Daar bovenop gaan ze trotser en vrijer bewegen.
Deze manier van trainen past zich aan de snelheid van het paard aan. Voor het ene paard zal het langer duren om een bepaalde oefening te beheersen dan voor het andere. Respecteer die tijd dan ook. Zaken willen versnellen door het gebruik van hulpteugels en dergelijke zijn een korte termijn oplossing, vaak gedreven door winstbejag en overwinningsdrang. Het paard wordt als middel gebruikt om een doel te halen waar een gezond en sterk paard, in mijn ogen, het doel an sich zou moeten zijn. De academische rijkunst beoogt een paard in een optimale fysieke balans dat lang en gelukkig zijn taak met trots kan uitvoeren. Een gezonde geest in een gezond lichaam. Daarom:
Dressuur is er voor het paard, het paard niet voor de dressuur.