De eerste maand was een maand met veel nieuwe indrukken.
Van jongsaf aan wil ik hem zo gewoon maken aan een aantal zaken zodat hij ze hopelijk de rest van zijn leven als doodnormaal beschouwt. Toen hij drie dagen oud was hebben we hem samen met Lady naar de toenmalige stalling teruggebracht van bij de "vroedman". Hij stond vooraan dwars in de trailer en Lady links. Ik stond er bij om hem vast te houden in de bochten. Eens op stal gekomen mocht hij samen met Lady op een weide naast de groep van de loopstal waar hij na een maand bij zou komen. Eerst mocht hij hier in alle rust en kalmte al wat wennen aan de anderen en de andere paarden ook aan hem.  Veulens gaan altijd de moeder proberen na doen, wat er ook voor zorgt dat een groot deel van de manieren van de moeder aan het veulen worden meegegeven. Een schrikachtige moeder geeft schrikachtige veulens. Lady is echter meestal de kalmte zelve en vindt zelf ook alles doodnormaal, ook de trailer. Het ene veulen is al wat sneller met alles dan de andere. Patchouli bleek een snelle. Na drie dagen was hij al mee hooi aan het "eten" of toch besabbelen, maar de mama deed het dus hij ook!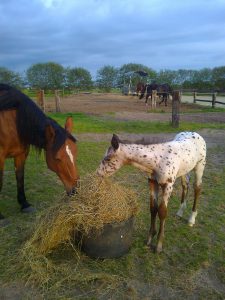 Als schuilstal parkeerden we de trailer op de weide, zodat hij ook daaraan kon wennen. Ook in de trailer gaan was voor hem al snel doodnormaal. Het middenstuk haalden we eruit en de trailer werd gestut met bakstenen zodat Patchouli er in volle vaart in en uit kon koersen zonder problemen. Wat hij later ook met véél plezier leek te doen 😉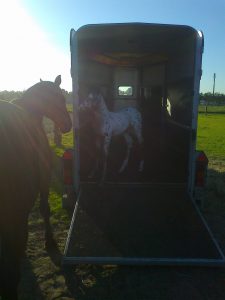 Na een paar dagen mocht nonkel Cowboy ook van dichterbij al een kennis komen maken. Patchouli leek het niet te deren, zolang hij maar kon rondvliegen in de weide.  En Lady bepaalde heel duidelijk hoe dicht Cowboy precies mocht komen bij Patchouli. Maar dat bleek niet heel dicht te zijn. Doordat Lady de alfa-merrie is van de kudde waar Patchouli en Lady bij zouden komen had ik ook helemaal geen schrik dat dit mis zou gaan. Lady had in het verleden al getoond dat ze heel zorgzaam en beschermend was voor haar favorieten, wat tot voordien Cowboy was.
Na een dikke week bleek Patchouli duidelijk al helemaal gewoon aan de nieuwe omgeving en de trailer. Tijd voor iets nieuws, we konden van vrienden een oude matras krijgen. Ideaal om je veulen gewoon te maken aan een vreemde ondergrond en rare dingen op een veilige manier. De matras werd gewoon in de weide gelegd naast de trailer bij het hooi. Veulens zijn heel nieuwsgierig van aard dus het duurde niet lang vooraleer de eerste voetjes erop gezet werden en de eerste tandjes erin… Doordat Patchouli alles op zijn eigen tempo en op zijn manier kon ontdekken werd hij ook niet afgeschrikt om op ontdekking te gaan.
Nieuwsgierigheid is een prachtig iets bij je paard, probeer het zoveel mogelijk te stimuleren zonder het te pushen of af te straffen. En zonder dat er enge gevolgen aan vast hangen als je een zelfzeker paard wilt krijgen. Zelfvertrouwen genoeg bij Patchouli gelukkig! Na een week of twee leerde ik hem ook kennis maken met een halster. Ik aaide hem er regelmatig mee, deed het half rond zijn hals, wreef het achter zijn oren, trok het over zijn neus zonder het vast te maken, … Toen hij dat allemaal goed toeliet deed ik het na een paar dagen dicht. Dit vond hij wel eng en liep dan ook meteen weg. Gelukkig heb ik het halster toch nog op tijd dicht kunnen doen zodat hij niet leerde dat weglopen de oplossing was. Redelijk snel kalmeerde hij al terug en besloot dat het eigenlijk toch niet zo erg was en er interessantere dingen waren.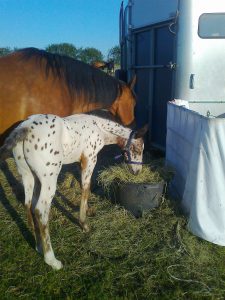 Maar wat voor mij misschien wel het belangrijkste was tijdens die eerste maand was het positieve contact met mensen. Patchouli moest leren dat mensen écht leuk zijn en niet altijd komen om iets te doen. We hebben dus veel geluierd, geknuffeld en onnozel gedaan, maar vooral genoten van elkaars aanwezigheid. En van het luieren kon ik gebruik maken om hem helemaal te aaien, tot ook aan zijn hoefjes toe, zonder dat het als een oefening aanvoelde.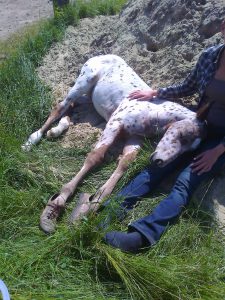 Dit was wel eventjes genoeg voor een eerste maand, binnenkort mocht hij de grote kudde in! Hoe we dat deden lees je in een van de volgende blogs, tot dan!